Hi,
my app working so far OK - but since this day when I go for My Trip > in "View as list" section where have my connections added, if I click on any connection for detailed info for each train (past or upcomming), the app show for me only starting and ending station.
But will not unroll/list all the stations on the way.
Thus can't see where actually I'm at the time, calculate delay agains maps/GPS position when arriving at some station.
So far phone restarted, restarted application - several times.
I'm not on VPN, do have internet, at full speed now, no throttling applied, all other applications working well. App is with full acces within Android for all what is needed.
I see only this:
When tapping in the area roughly defined by the height of yellow line - usually it shows me all the stops on the way.
But not this time. It won't react anymore.
Before this issue such action resolved in this result (pic added is a cropped out prtscn):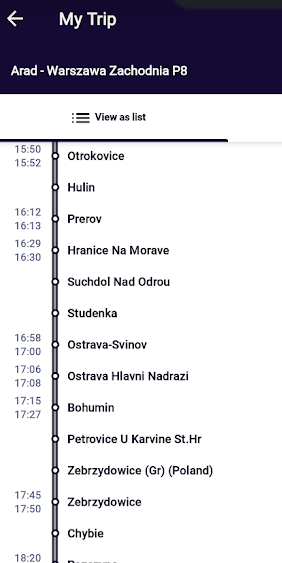 I noticed "last timetable updated:" info - but cant' find a way how trigger the update for this in app settings.
Would like to clear cache or even re-install the app - but my old phone with ticket already got broken so this phone is my second thus I'm out of possible transfers of the IR ticket into another backup phone.
I'm unsure if clear cache will wipe out my jurney/ticket's > because can't find it in my account here. Just basic info about my persona, but nothing from phone is synced I guess.
Also maybe there are some options I missed in settings and the problem is because I'm out of sync with actuall timetable > so it won't load it for me.
So far the QR code with IR pass is loading so it's only troublesome for detailed info for specific connection - but it's quite usable feature for me, so that's why I wondering why it's not OK now and what I can do about it.
Thx for any info, if someone encountered same issue - how long it persisted? It start working well again out of nothing or some actions were neded?
Let me know.