Did you know there are more options for border crossings than maps and timetables will tell you? If the timetables doesn't show them, it might be because it deems the distance to the stations on either side of the border too far. But if the alternative is a full-day detour, then consider this:
(part 1 of this topic is here)
Croatia to Serbia
There is currently no passenger train connecting Croatia to Serbia, but there are two places where the track is in place: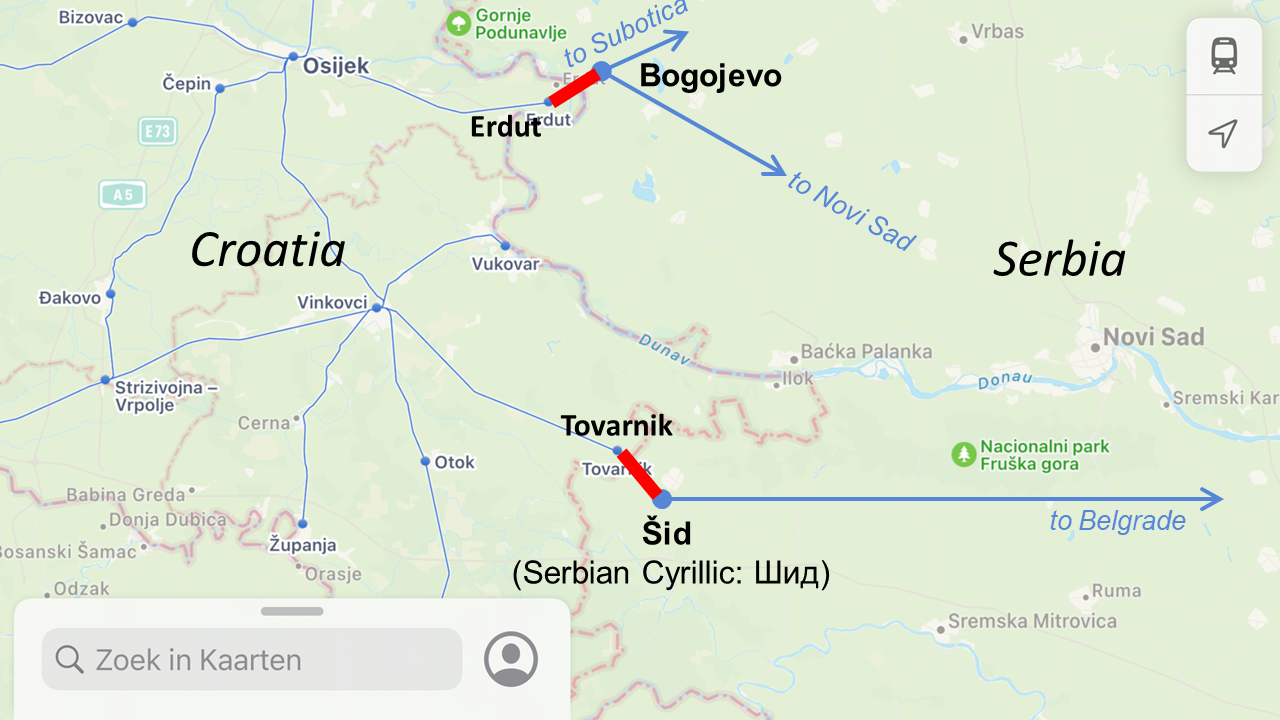 Tovarnik (Croatia) - Sid (Serbia)
The track is there, freight trains are running one after the other, and the preparations are there for a passenger connection: there is a direct train between Villach (Austria) via Ljubljana (Slovenia) to Vinkovci (Croatia). Vinkovci is the last city in Croatia before the border with Serbia, however not of such an importance that it deserves a rail connection with Austria. Hence my thought that this train is destined to be continued to Belgrade (Serbia). 
Train IC 210 / D 210:
Train D 211 / IC 211:
08:44 Vinkovci 
...
12:50 Zagreb Glavni kolodvor
...
15:27 Ljubljana
...
17:08 Villach Hbf
12:53 Villach Hbf
...
14:45 Ljubljana
...
17:37 Zagreb Glavni kolodvor
...
21:38 Vinkovci
For the timetable-nerds: this means the two trains will meet each other in Slovenia between Trbovlje and Ljubljana, which is the beautiful stretch along the river Sawa.
The Serbian Railways timetable ( https://www.srbvoz.rs/wp-content/redvoznje/ms_en.pdf?time=1684690295 ) already mentions it on page 5, but says:
privremeno ne saobraća (temporarily not in traffic)
With no direct train, I took the local train to the last village in Croatia, Tovarnik. Then walked a few km's to the border with Serbia, went through passport control as the only pedestrian among many many many trucks, and then walked more km's further to Sid (Šid, Serbian Cyrillic: Шид) to continue my train journey. 
Tovarnik is a village and the station is well outside of it. But Sid is a town. So if one does not fancy the walk, then the journey in opposite direction is easier: there are taxis waiting in front of Sid railway station and they could bring you to the border. There are a few trains per day on each side of the border but it all depends on your walk or taxi how long it will take you. 
Erdut (Croatia) - Bogojevo (Serbia)
I did not travel this one but in order to make this post complete I investigated it as I did for the Tovarnik-Sid route described above. As this appears to be a more countryside-route and with a bridge across the river as the actual border, actually I regret I did not travel this route, so placed it on my to-do-list for my next time in the Balkans.
In Croatia, trains go as far as Erdut and here are the timetables:
https://prodaja.hzpp.hr/en/Ticket
Ironically, the connection is also shown on page 7 of Serbian's international timetables:
https://www.srbvoz.rs/wp-content/redvoznje/ms_en.pdf?time=1684690295
...but with the remark:
privremeno ne saobraća na relaciji Bogojevo-Erdut-Bogojevo
(temporarily not running on the route Bogojevo-Erdut-Bogojevo)
So the Serbian timetables are advertising a train that is entirely running outside Serbia!
Then the Serbian trains do resume at Bogojevo, towards Subotica in the north and Novi Sad in the south:
https://www.srbvoz.rs/wp-content/redvoznje/ns_bog_sb_su_en.pdf?time=1686475452
Interestingly, Bogojevo is not an end-station but a fork-shaped junction. So trains arrive in one direction, and then revert to continu in the opposite direction. Also mind that the station called Bogojevo is a bit lost in the middle of nowhere, whereas the station Bogojevo-selo is right next to the village of Bogojevo (selo = village).
The gap between Erdut and Bogojevo is a 7,1km, which would make for a 1h25 walk (according to Google) but mind that Google did not stop for the border. Now the border crossing looks a lot more countryside than the one at Tovarnik, but Google says it has 24/7 operations. A handy feature is this webcam to give you an impression of the wait: https://alltrafficcams.com/live/border-crossings/serbia/croatia/bogojevo-erdut/
Also the traffic-layer on Googlemaps gives hints. Comparing Tovarnik-Sid to Bogojevo-Erdut at the same date and time, the queues at the latter were shorter. 
All feedback welcome!