When you arrive in Paris you spill out straight in to the busy centre of Parisian life, one of the amazing things of course of European train travel, is the immediate access to the centre of its cities. In my case the surf trip out to Brittany involved departing from Gare Montparnasse. Paris is not easy in a wheelchair, that's my warning. Metro and RER are not accessible at all, so don't try. You have two options one is to catch the bus, there are buses opposite the station which can take you to all the other major stations of Paris in about one hour. Put your hand out for the driver and ask for 'la ramp' which on Paris buses descends from the back door. Remember once the driver has shut the main doors, they reopen them again to engage the ramp, he is not driving off as it first seems! The other option is G7 taxis booked in advance and cost about €50 to get to the other main stations of Paris stations. They are fully equipped and usually meet you at the head of the train, www.g7.fr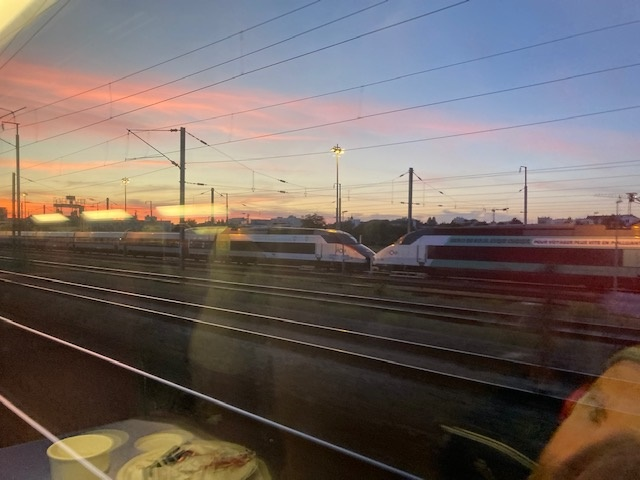 Again, more strange looks carrying a surfboard, the bus took one hour to wind its way through to Gare Montparnasse, it has level access and lifts along with a great accessibility desk who are really friendly and helpful. I chatted with the staff, they assisted me on to the evening TGV service out to Plouraret-Tregor and also arranged the transfer to the local train up to Lannion. Once aboard the train, it's fantastic way to travel at high speed  and if you require anything from the bar then member of staff will take your order at your table and bring it to you, you order through the oui.go website and TGV Wi-Fi.. Also worth noting that the toilet access on the carriage is really spacious and is accessible.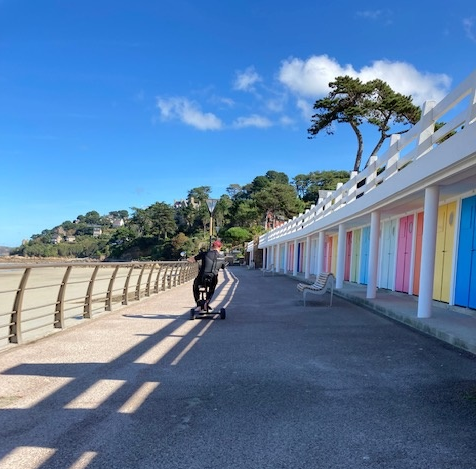 At my destination I was meeting Vincent at the station, he is involved in the local surf club and the organiser of the para surf event. This style of para surf events are peppered throughout the year in different international  locations  with a World championship at the end of the year in California. This competition world is very new to me, it's only my second event however there was some jeopardy involved as I headed out since I was to be medically assessed by an ISA doctor (International Surfing Association) to both assess and classify my category as an adaptive surfer. Much like the Paralympics each sport has different classifications. And the jeopardy? If I was successful with my medical classification along with good result in the contest, I had an offer to compete for the Team GB squad as a para-knee surfer!! (that's the style and category I ride my surfboard.)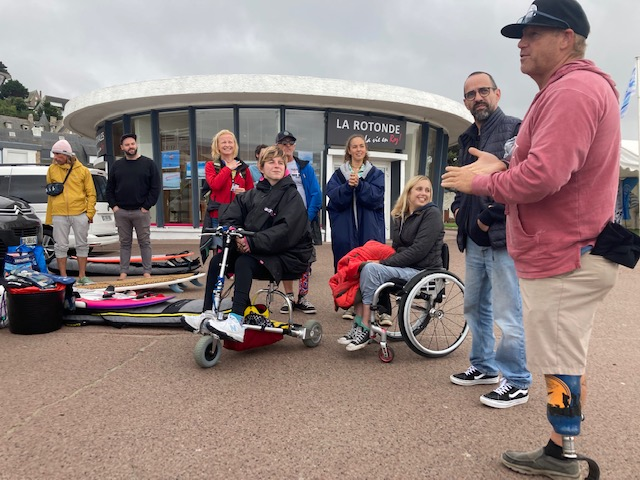 The following day Vincent collected me from the Hostel, we headed off into the coastal town of Perros-Guirac for a tour and a coffee. This was my first time in Britany, and I've always wanted to visit because before mediaeval times the Celtic people here were very closely related to the Celtic people in Wales and Cornwall. So much so that even today almost 1500 years later the place names are very similar to Welsh place names, and I can understand their meaning. After a fix of caffeine, tour of the tranquil promenade and its stunning green setting, Vincent took us up to this large old French farmhouse to meet the Californian Doctor who had flown in just the night before to carry out all our assessments. By this point many other adaptive surfers made their way up from across the coastal regions of France to also be classified. The whole thing is quite surreal however after an hour in a makeshift medical surgery I got my license to para-Surf!!
 
Tip: Use the new Eurail app to reserve your tickets in advance, you can ring to book your place on the French train as an accessible passenger however it's limited in how successful that can be and it's in French only. The physical ticket office at all major French stations is your best bet and they do have a dedicated accessible desk near the main ticket office with its own team who once you show them your reservation, are usually pretty efficient. HOWEVER, In France don't expect to be able to get on the train you would like even with your reservation, there is only one wheelchair space per TGV train, yep just one! Often you have to travel on the next service or the next one after so expect a few hours delay and get a bite to eat or charge up and chill.
Did you miss the introduction post and/or part 1 of this blog series? Check it out here: 
---

Stay tuned for part 3 of Olivers' journey - the surfing contest starts, could I make team GB? Then on the TGV to the Pyrenees