Very excited to be finally going back on the Eurostar over to the continent after a few years since the pandemic had blocked what was for me a regular thing,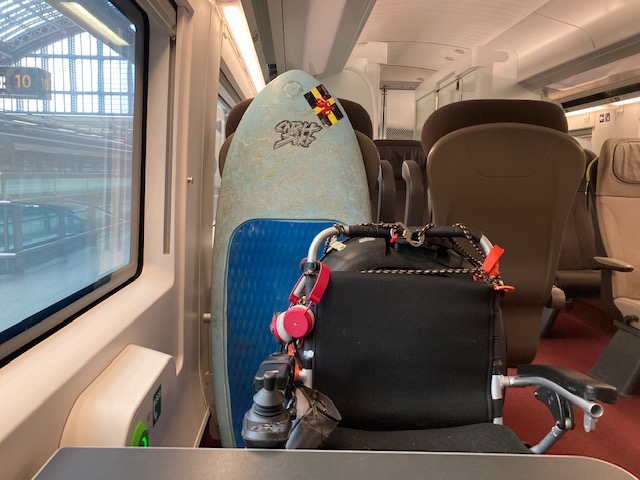 This time as I put a surfboard under my arm it was with some nerves as I began preparing the wheelchair. As brief overview, with my physical disability I have tried to rediscover the sports I enjoyed before the onset of my disease, this have been both snow and sea related in the form of skiing and surfing.  18 months ago I got back in the water and slowly and surely found a way to get across the waves in the form of a knee surfer style. By chance I bumped into an adaptive England team coach in the water who told me there is a World Series of adaptive surfing competitions out there.
So fast forward to 3 weeks ago and after competing in my first international competition in England, this was my second chance to ride some World Series competition waves comes around in Perros-Guric, Brittany, far North-west France. How to travel with dignity, freedom and without being tired out for a surf comp? Interrail pass of course.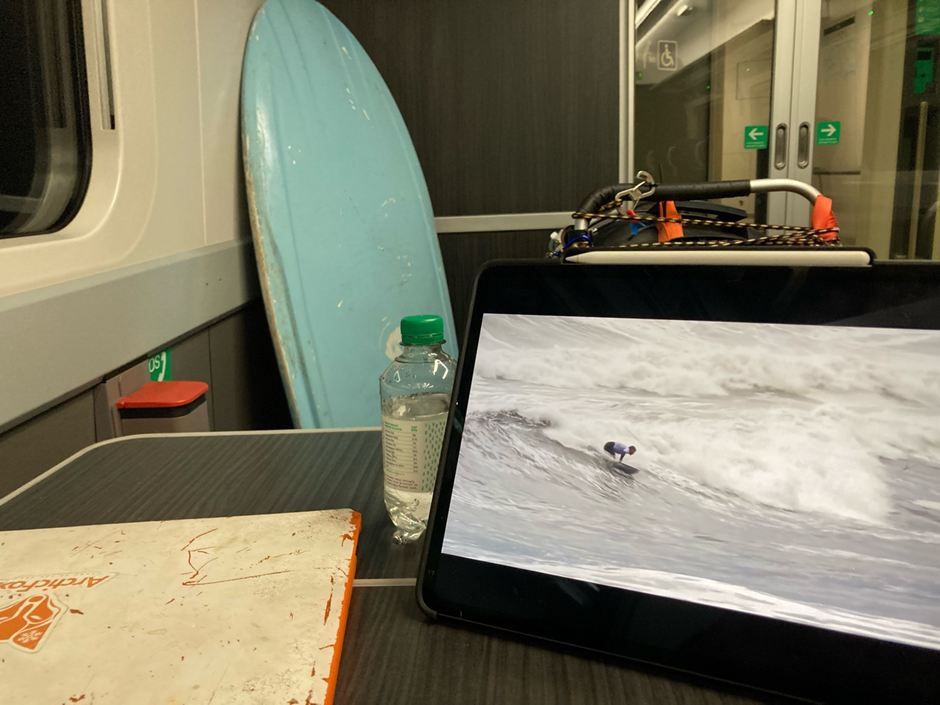 With a beer in my hand, I planned the trip with an old Interail map laid out on a pub table. It was decided that this leg is a four part train journey from wales to London, London to Paris and Paris to Lannion, Brittany. Now there are two kinks in the armour of this plan as wheelchair user, London and Paris both require a major station change. This is a well trodden route for me and I have learnt the hard way but here are some tips, for London try to aim for Euston station or even better kings cross as these are within rolling distance to st Pancras international. This might sound obvious but there are so many major stations in London that if you come into somewhere far away you have to try and tackle the underground which is okay but not ideal. If your train is coming into another London station try and plan your route through Birmingham, Britain's second city and then you could have direct links to Euston station. Paris is a different animal but in I can tell you more in Part 2.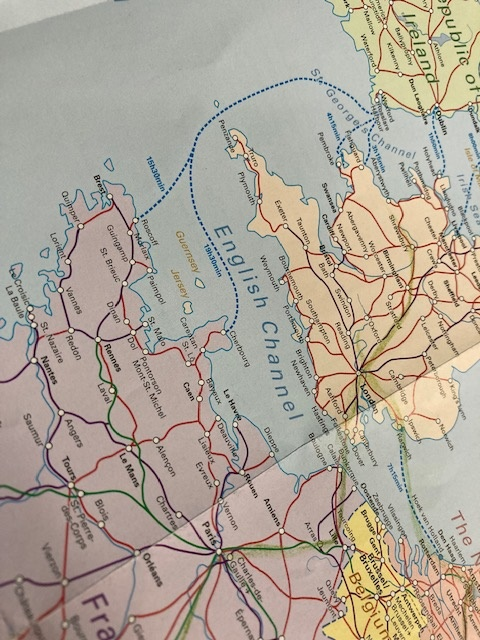 In my case I arrived at Euston station late and set off for a small night time wheelchair trek to my hostel near st Pancras international. It's great to be back at the same hostel again,  they recognised me after 2.5 years since I last came through. The Generator  hostel, although big and busy offer accessible hostel rooms, bathrooms and restaurant access. With a surfboard under my arm as I entered the hostel, it was the bar where I found myself around 11pm, I was quickly invited over for a drink to explain why. Before I'd even got to my room I was having a second with a South Korean tour guide, an Englishman and a backpacker from Lebanon.  We shared many a joke and a drink about carrying the surfboard in central London but this is what Interail is about! I missed it, the adventure the hostel vibes and people.
Up early the next morning for the 10min roll to the Eurostar terminal, here you see what accessible train travel could be like. St Pancras international is modern and packed with shops and facilities. The Eurostar area is easy to find, the set up  is much like a mini airport,  the helpful staff and amazing service to Paris at 200mph really is good. They really go out of their way to make sure that disabled passengers are looked after and I cannot praise them enough.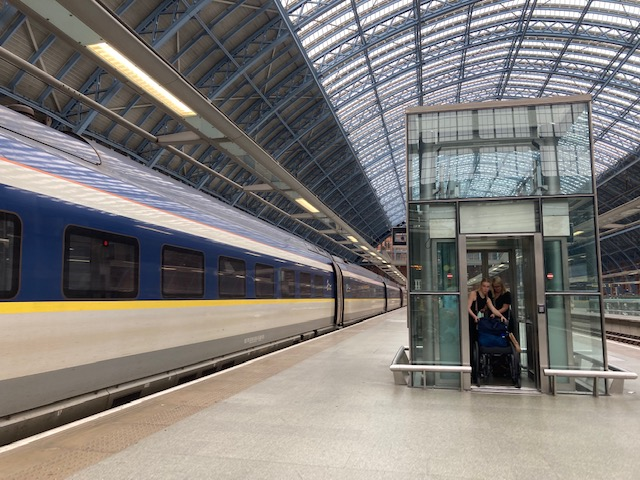 Just 2hr 15mins later you arrive at Gare du Nord Paris where you will be met at the door with a ramp elevator once everyone else has alighted. Strange looks again for the wheelchair and surfboard but great to be back in Paris, as always very classy and very  busy but can't stop as need to get to the surf! 
Tip: Eurostar offers wheelchair users a flat rate to Paris which is the same as with the Interail pass reservation, however the Eurostar website has a specific accessible booking page.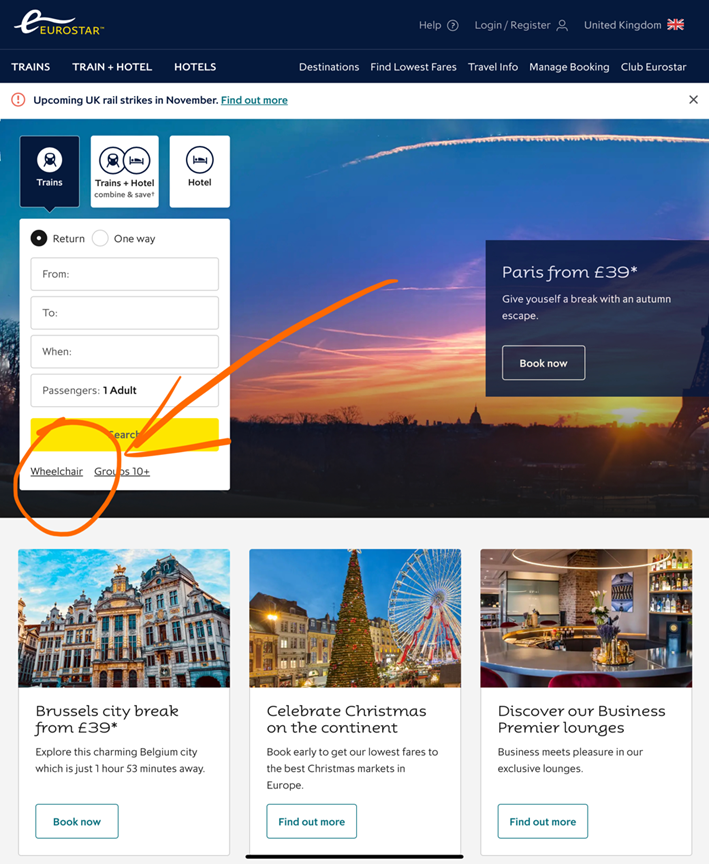 Did you miss the introduction post of this blog series and/or want to continue reading part 2? Check it out here: 
---
Stay tuned for more on Olivers' journey here on the Eurail Community.