Dear fellow travelers,
 
I am quite confused with Inter Rail's reservation tool. Hopefully you can help me!
The situation is as follows: I bought an Interrail pass a while ago. With that pass I want to take the train from Milan to Brig (Switzerland). The app states that I have to make a seat reservation for this train. When I wanted to use the online reservation tool to make this reservation, I was not able to select any price/seat (see picture below), while the app shows me that the reservation costs are €11. 
Does this mean the train is already fully booked? Or am I doing something wrong? 
Thanks in advance!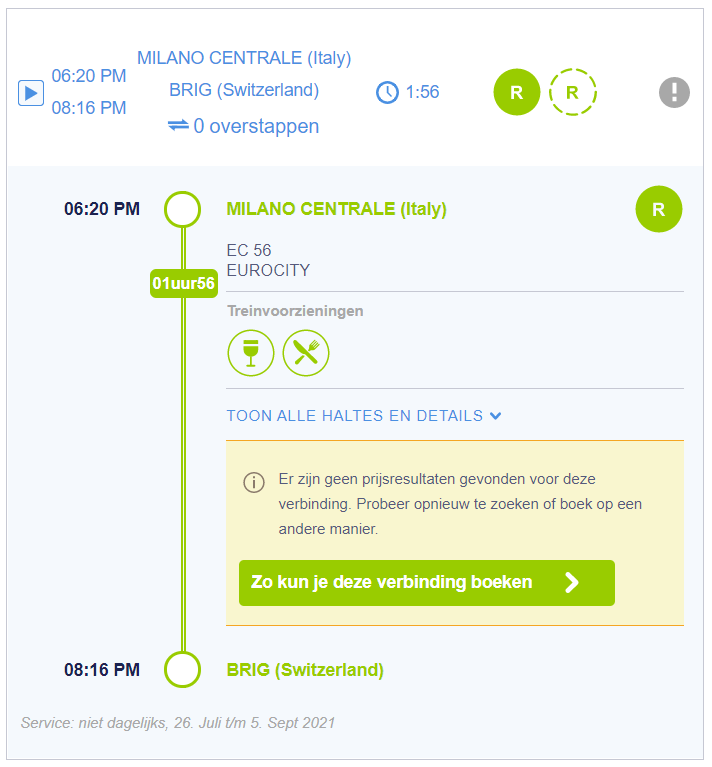 Best answer by Nanja 28 July 2021, 11:28
Hi, our information relies on the timetable data provided by carriers. In case you see the message ''no price results found'' we cannot get a price from the booking system for this train and therefore it is not bookable through us. It could be possible that it is because the train/connection is not running. Therefore, we advise you to check the website of the carrier for most updated information. Other dates do show the option to book so it looks like it is fully booked on the day you were searching. 
View original